Rock N Roll, Rock N Roll, Rock N Roll.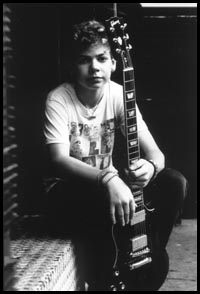 Derek Dunivan
In front of The Continental, NYC 7/20/98

o I'm standing at Tramps in New York City early Saturday evening, trying to get an interview with the Swinging Neckbreakers, talking with Jeff, and I hear this band doing "Blitzkrieg Bop" for their sound check. I thought, "hmmm, some band is covering 'Blitzkrieg Bop'. How 'bout that". But I didn't pay much attention. Then they went into a version of "I'm Not Talkin", and I thought, "Wow, that guitar player sounds really good." I look up, and there's this kid playing the guitar. I looked at Jeff and asked "How old is that guitar player?". Then I notice the drummer looks even younger, the bass player is a teenaged girl, and the singer looks like he could be their father.

Pure Rubbish is:

Derek Dunivan - 14 years old, brother to Evan, son to Punk Daddy, Super Cool- (Guitars, Vocals)

Evan Dunivan - 12 years old, brother to Derek, son to Punk Daddy, Rock N Roll Awesome - (Drums)

Morgan "Donor" - 16 years old, friend of the family, totally rockin' chick - (Bass, Vocals)

Punk Daddy - 37 umm I mean 22 years old, father to Derek and Evan, maybe the coolest pop in the world - (Lead Vocals)

The Little Cracked Egg spoke with Derek Dunivan.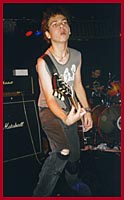 Derek Dunivan
At The Continental, NYC 7/20/98

Derek: I started playing Drums when I was a little kid actually. Got into playing guitar on a toy guitar, and started playing real guitar at nine, but stopped cause I hated it. Couldn't get if for a couple of years. When I was eleven I started really playin guitar seriously. I learned "Johnny Be Good". And at twelve I was only playing guitar. Evan plays guitar too. He's pretty good. He's been playing guitar for about seven months. We go in our rooms and we play. We can bust out just about any cover in the world that we wanna play. We know all the Metallica songs even. We play in a Metallica band, and we played in a jazz band at school. He's my brother. Evan rocks.

I saw an SG in a guitar store before I knew how to play really, and thought it was just the coolest guitar. The Shape. Then I found out Angus Young and Mick Taylor used them, and so many other people. I mainly use it cause of Angus Young.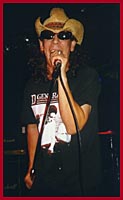 Punk Daddy
At The Continental, NYC 7/20/98

Dad's played Rock N Roll for over twenty years. He's a Houston legend. He turned us on to everything we like. His favorite band is the Stones. My dads been to 250 concerts. The good thing about dad is he got us into the good music when we were young. When I was about 4 he played "Dream On" over and over.

This is our first tour. We can only tour in the summer when we're off from school. I wish we could tour for 2 years. My dad doesn't want to. My Brother doesn't want to. I would! I'd love to go on the road for 2 years. I wouldn't get sick of it. Ever. I like playing too much. New York is our favorite place we've played. We want to play at CBGB's and Coney Island High.

The stage at Tramps was big, but not compared to the Trocadero in Philadelphia and Numbers in Houston. But Tramps was the best so far. The Trocadero was awesome, but they were jerks. The staff bit. I hate that staff. Those guys were the biggest jerks in the world. Philly's cool though, but the coolest city we've been to is New York. New York is awesome.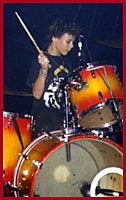 Evan Dunivan
At The Continental,
NYC 7/20/98

Evan: People base us as a Punk Rock Band, but...

Derek: If you listen to our originals though, we're more like the Stones and old Aerosmith than we are like the Sex Pistols. These Guys in Houston say we play Punk Rock music, ya know, but then they don't even take the time to listen to the originals and hear the Stones influence, and the Faces influence, and the Aerosmith influence.

The music scene in Houston is horrible. There's no Rock N Roll what's so ever. Just noise. There's 4 clubs that are worth playing at. The Houston music scene bites, but Houston is a cool city itself. We have a big big following there. There's 4 million people and about 10 percent of them like our Rock N Roll, so they come out and see us.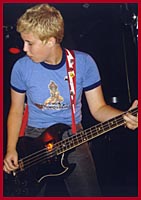 Morgan "Donor"
At The Continental,
NYC 7/20/98

I hate wearing big t-shirts. We shrink all our shirts.

Evan: The smallest rock shirt I've found was a Ramones shirt the other day in Baltimore. It still comes down to here on me.

Derek: Our friends are queers mostly.

Evan: My best friend has the Hanson CD. That's how queer he is.
---
Pure Rubbish, from Houston Texas, have just finished up their first tour, and already many people are in awe of them. Their fans include rockers DGeneration, and Nashville Pussy. On stage, the Rock N Roll attitude flies, but off stage they're just really cool people. It's so great to see kids their age into this kind of music, when most of the kids in America are listening to the Spice Girls. Besides their taste in music, they're really smart kids, and it was a pleasure to hang out with them.