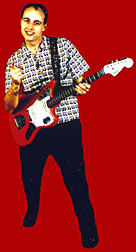 Deke

DEKE: Rager, is it true that you're so cheap that you collect ketchup packets so you don't have to buy ketchup?
RAGER: Yes, this is quite true! In fact the word is starting to get around about my collection! When the Youth hit the stage in Kansas City recently, I was amazed (and delighted, I might add) to see the top of my Farfisa organ covered in ketchup packets!! I may even have collected enough packets to host a barbeque and Still not have to buy ketchup!
RAGER: Mace, what exactly did it take to transform your '73 Dodge into a Hot Rod Dart?
MACE SEZ: I took the 318 motor, put an Edelbrock intake on it, with a Holly 600 cfm. carburetor. Dual exhaust was next, and then I ran out of money. This was a good thing, as the car was and always will be a Dodge Dart!
MACE ASKS: Hey Joel, isn't it against your religion to do an interview for an online publication?
---
"...I was fondling my first pair of breasts to "Hurts So Good","Jack & Diane" etc."
---
MRS. JOEL TRUEBLOOD: I had to print the "interview" at work and bring it home to Joel because he refuses to have a computer in our home, he hates the internet and he thinks e-mail is what you send to Graceland. When I showed him the print-out, he said: "What is this shit? This is bullshit. This is the most ridiculuous thing I've ever seen. These computer geeks need to get a life." He threw down the print-out, started mumbling something about burying money in our front yard because of the Year 2000 glich and went back to reading Guns and Ammo.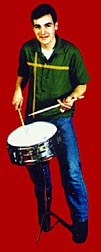 Joel
DEKE: Well, there's one in every band. what are you gonna do? I have another question for Rager. Please explain why you bring shame on our band by collecting all the solo Beatles albums, and the Rolling Stones records made in the last 20 years....
RAGER: Whew, ya got me with this one, Deke. Uh...as far as the Stones go, I actually like at least a few songs off all their albums even since Mick Taylor quit.I must say though, Dirty Work, Emotional Rescue and Black and Blue are close to awful. But the last couple albums are very good despite what Brian Jones era only fans might think. I do agree the Jones era is best though. I used to collect all the solo Beatles albums and even worse, everything put out by the Apple label!! But sooner or later we come to our senses and put a halt to such nonsense! I liquidated all the Apple recordings except Badfinger years ago. Same goes for the McCartney slop. I did keep his first solo album though.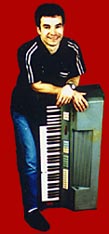 Rager

RAGER: Deke, somehow you're getting off the hook here. So now I've got to embarrass you a bit. How 'bout 'splainin' your allegiance to John Cougar Mellenhead?
---
"The Youth to me are all about kickin' back with a cold PBR while diggin' an episode of the "Beverly Hillbillies."
---
DEKE: 8th grade. 1981....I was fondling my first pair of breasts to "Hurts So Good","Jack & Diane" etc. Yes they are godawful but they bring back a more innocent time, sniff sniff boo hoo. Okay, now here's a question for both Mace & Rager (each please answer seperately): Please describe in rock language just what it is that you do in the Untamed Youth. For example, if I were to describe myself in "rock language," I would say "With a reverb drenched frenzy my flying fingers of freedom and sugar-coated singing pleased every lady in the house." Now Mace, Rager--your turn!

RAGER: "From the scissor kicks behind the Farfisa organ to the fancy footwork of the 'Sammy Dance', the audience is whipped into a frenzy every time Rager takes the stage!"

*************************************************************
The Little Cracked Egg must interupt this interview to note that Mace failed to respond to this query.
*************************************************************

RAGER: Please explain the expert technique involved in flawlessly executing the "Beer Volcano" night after night.

DEKE: Having the world's biggest mouth, I insert the can into my mouth and let the beer drain into my throat and mouth cavity while holding my head back. Taking all my lung capacity, I then blow the beer back out, while still holding onto the can with my teeth. The beer blowing past the can presents the perfect round fountain...this trick never fails to entertain.

DEKE ASKS MACE: Who are your bass influences, and why?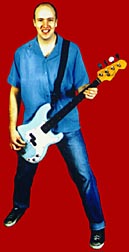 Mace

MACE SEZ: Rolle Love (of the Beat Farmers) and Dee Dee Ramone. Why? Because before I was introduced to these two men's work, I was a prog-rock loving jazzbo wannabee, who smoked WAY too much dope and never got laid! THESE MEN ARE THE TRUTH! JUST ROCK OUT! ANGUS YOUNG FOREVER!

RAGER ASKS DEKE: Deke, you spent your days in Columbia, MO hot-rodding around town in some pretty infamous vehicles. Can you describe them and tell us what became of each?

DEKE: Don't know why anyone would care, but here's a quick rundown: '63 Ford Fairline 2-door: Found it at a garage sale for $350. Drove it for a year and then the front end fell out on some poor guys driveway while I was delivering pizza to him. Now in junkyard. '68 VW van: Bought it for $800 and within 6 months needed an engine rebuild. Sold it to a friend for $100. VW vans are true pieces of junk and (rare for VW)a genuine piece of bad engineering. '60 Cadillac Sedan DeVille: Man do I miss this class ride. The ladies loved it. Sold it for what I paid for it--$1500 '68 Oldsmobile Hearse--this was the Untamed Youth's hearse but I drove it as a personal car. It started dying after we put 25,000 miles on it touring. Sold it to the junkyard and it's now a ball of metal. '75 Datsun station wagon--the only japanese car I've ever owned (other than the short lived Dukes of Hazzard General Lee experiment). I paid $150 for it and drove it 20,000 trouble free miles before it died. I painted it with spray paint to resemble the Batmobile (this was before any of the horrible modern Batman movies--Adam West is the ONLY Batman). It's still sitting out in the back of my dad's shop. He uses it to store stuff in. Though it was reliable, I cannot bear the shame of driving a japanese car. I suffer today with 7 miles per gallon from a worn out 318 V-8, PROUDLY. '73 Honda station wagon--after the above died I bought this one for $200 and painted it with orange housepaint to be like the "General Lee" unfortunately it was messed up from the get go, so I never actually drove it. But I sold it to my mechanic buddy and he fixed it up and his wife is still driving around Columbia in a housepaint orange car (though the O1 and rebel flag have been painted over). Not to mention the '59 Caddy hearse on the cover of SOME KINDA FUN....but it never ran....

DEKE TO RAGER: Let's wrap this up. I ask you this question, and why don't you send it to Mace after you're done. What does the Untamed Youth stand for? I say CARS GIRLS SURFIN' BEER, nothin' else matters here. You gotta say something else....

RAGER: The Youth to me are all about kickin' back with a cold PBR while diggin' an episode of the "Beverly Hillbillies."

MACE: The Untamed Youth are all about the IMPORTANT things that those God-Awful "heartfelt political message" bands feel content to underemphasize: Gettin' Rowdy, Eatin' too damn much, and living the life of being too hung over to remember where you where (or who you slept with) last night!