reak out that bottle of your favorite boozy substance that you've been saving for a special occasion, put on a funny hat and come join the party. This shindig is in honor of Sympathy for the Record Industry and
---
"...my father raised his arms, shook his fists and screamed at the moon..."
---
it's founder Long Gone John. It's Sympathy's 10 year anniversary, 10 years of serving up some of the best garage , punk and rock and roll to ever grace a turntable, one big fat decade of copious output, over 500 releases. That's right, I said OVER 500 releases that represent over 400 bands and Sympathy show's no sign of slowing down. 10 years is a hell of a long time for an indie label to be constantly shoving out great product on a consistent basis, flip through any record collection, and if it's worth a damn, it's going to contain quite a few Sympathy releases. The sympathy discography (check it out on their web-site http://www.sympathyrecords.com) reads like a veritable who's who of quality rock. What is truly astounding is that in the 10 years of Sympathy's existence every aspect of the label's operation has been handled by one man, all by his lonesome, that man is Long Gone John...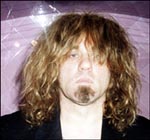 Long Gone John

"Well as a child I was stolen by gypsies from a basket on the back porch of our house as my mother hung up the wash to dry...we were a very poor family and my parents could not afford the bribe money for the police to have them to attempt to find my kidnappers...this was a sad day and my mother and father were heartbroken...I was just a little over one year old at the time...my mother cried until she had no more tears and my father raised his arms, shook his fists and screamed at the moon...they were certain they would never see me again and that the gypsies would surely sell me into slavery...well, to cut a long story short, a peculiar set of events began to take shape...it appears I was a bit of a nightmare child to take care of and after several attempts to sell me, and eventually even trying to give me away proved in vain, the gypsies, under the cover of nightfall brought me home and placed me in the basket that still sat empty on the back porch...as I loudly cried my mother and father awoke to find me once again in their lives...the gypsies had placed a note on me that read 'lounggunna' which later was discovered translated from Rumanian into "long gone"...this was apparently a reference to my temperament and the gypsies believed me to be possessed by demons...having had the whole ordeal reported on television and in the papers I was from then on referred to as "long gone"...my birth name is John..."

Sympathy's first release was the Lazy Cowgirl's RADIO COWGIRL LP...


The first record sympathy ever put out

"I was just doing it as a favor to the band...I had no designs/intentions of starting a label, I wanted to rob liquor stores or be a Barry Manilow impersonator and basically just be a public nuisance in my spare time...I guess when I realized it was a long-time concern, was when one day I noticed I had over 500 titles in my catalog..."

The sympathy line-up isn't constrained to any one type of rock and roll either. It covers all the bases worth covering.

"Well, basically when I became involved in the label I had very varied interests (musically speaking). I like rock n roll and most of it's mutant offspring...I like girl vocalists a lot, I like the hybrid/fucked-up blues, I like pop music, I like just about it all except for rap (hate that shit) and anything resembling hardcore is equally foul and I hate any kind of white funk..."

To help commemorate Sympathy's first decade, Long Gone John is releasing a series of comps...

"Well, the first volume was released a few months ago...it's called Their Sympathetic Majesties Request (See review-J.P.) it's compiled from my first 200 releases...I'm really proud of it...it is a double lp and double cd...the cd version has 48 tracks almost 140 minutes...did I say I am really proud of it ?"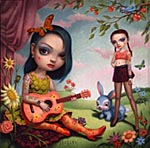 A painting by Mark Ryden for the cover of an upcoming Sympathy release

"The artist, Mark Ryden is a friend of mine, and he's quite simply one of the most amazing artists around...I had the original idea and we fine-tuned it together...it's the most incredible cover I've ever had done...nothing comes close...it took him 5 weeks to paint...it cost me $10,000.00...if it had been for Warner Bros, Geffen etc. it would've cost $50,000.00 and they wouldn't have been able to keep the original...he's starting a new painting for a collection of girl groups for me really soon..."

So what would any self respecting record mogul do to celebrate a 10 year anniversary...

"I'm going to get my cowboy boots polished drink one of those little bottles of Yukon jack and buy a subscription to Entrepreneur Magazine..."

Music fans can rest assured that Long Gone John isn't going to be slowing down any time soon. He's gonna keep spewing forth more great rock and roll. Some of the ones you should be looking out for in the immediate future are...

"A Norwegian band called the Barbarellas that are 5 drop dead gorgeous girls playing really cool garage music, an album by a group called Lo-Hi which is Hollis Queens from Boss Hogg and Martin from Speedball Baby which is an amazing debut, a brilliant new album by Jack Oblivian and a collection of stuff from the ever popular Rocket From the Crypt..."

The one that got away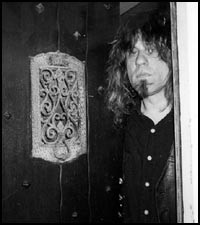 Long Gone John

I guess this was sometime in late1990, I had released the first Hole single and I really thought the world of them...they were my favorite band in L A at the time and I'd go see them everytime they'd play. They were pretty popular locally, but they had yet to venture very far outta southern california. We were all good friends and we were begining to make plans for the recording of their debut album. Courtney had her game plan in mind; she wanted to release her first album on an indie label and the second on a major...she had apprroached Kim Gordon to produce the record because Courtney was really into the "girl" thing and Kim was the only visable possibility that seemed appropriate...keep in mind Kim had not been involved in any production as far as I'm aware of. Anyway,
---
"...I was really dissapointed because I loved them so much..."
---
seems in a roundabout way Kim may have thought Courtney was trying to ride her coatails, but to me it seems it was much more about respect and comradery. Kim declined the offer. Around this time Caroline[Records] was interested in Hole but I didn't think Courtney ever suspected they'd be offered a deal. I had to go to England and while I was gone Courtney was going to be having lunch with somone at Caroline...I sorta knew in the back of my mind that the record was gradually slipping from my grip. When I returned from England Courtney called and said she had something to tell me...I said 'Courtney I already know what it is'...Caroline had offered Hole a deal that I couldn't dream of competing with, and they needed to accept the offer. I didn't blame them...I was really dissapointed because I loved them so much, but I understood the dilemma. I told her I wasn't surprised and although incredibly saddened I really wished them well. I told Courtney that on Caroline they'd be just another band, but to me, I said (in one of my rare eloquent moments) that they'd be the brightest star in my sky. And a line quite like that surfaced on one of the tracks on the first album, and it always makes me wonder about it whenever I hear it (by the way Kim ended up co-producing the album after all). Their new album is amazing and I think Courtney is a poet and a very rare talent. I'm really proud to have played a little part in their story...

Happy Birthday Sympathy, from everyone here at The Little Cracked Egg, but before we bring this party to a close, how are you going to kick off your next 10 years?

"Well, I guess there will be lots of new records by lots of new bands and hopefully a few more projects with some of my current faves...I'll keep doing pretty much what I've done all along, which is doing exactly whatever it is I choose to do without the faintest concern of how well a given record might sell...that keeps things interesting for me and keeps me off the F.B.I.'s most wanted list..."

So it seems that the party isn't over, it's just getting started.

Thanks to Long Gone John for providing the tunes for the party and the answer's to my moronic questions.

Johnny Pontiac
---
THEIR SYMPATHETIC MAJESTIES REQUEST-Double CD-Sympathy For THe Record Industry
Want to come to the party? Well, the invitation comes in the form of this two CD compilation culled from the first 200 releases of Sympathy For The Record Industry. This comp would be worth it for the amazing cover art alone, but the music on the discs is great. I liken it to a celebration of all that does not suck. 48 cuts from Sympathy's early years. This CD is part of a series so, as if this amazing release weren't enough, we can look forward to more in the future. Here's the roster:
The Shitbirds
The Vacant Lot
The Nomads
The Supersuckers
Trash Can School
The Pooh Sticks
The Muffs
The Dwarves
Jonestown
The Daggers
The Coneheads
Hole
Sacred Miracle Cave
Ethyl Meatplow
God Bullies
El Vez
Ron Urini
Black Flies
The Friggs
Gibson Bros.
Gargoyles
Thee Headcoats
Miracle Workers
Trbngr

Blundertongue
Crowbar Salvation
Rocket From The Crypt
The Zeros
Sludge
The Lazy Cowgirls
Chrome Cranks
Red Planet Rockers
American Soul Spiders
Clawhammer
Pink Slip Daddy
Devil Dogs
The Love Dolls
Spectrum
Panther Burns
Monsiuer Jeffrey Evans
Thee Headcoatees
Satan's Sadists
Kim Salmon
The Humpers
Bored
Penetration Moon
Sleez Sisters
Contrapunctus
Guaranteed you're going to know and like some of the bands on this comp, and what's even better is that you're going to discover some that you hadn't heard before that will knock your socks off. A great package documenting Sympathy's early years, well worth spending your lunch money on.
JP